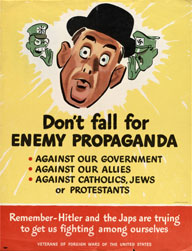 It has come to my attention that more and more people are falling for enemy propaganda and start thinking about purchasing a Mac rather than state department approved Windows PC. Don't fall for enemy propaganda, report uses of Macs to the closes TSA branch or directly to the State Truth Department.
Sorry, it's a long weekend and this article promises to be rather long, so a bit of humor should lighten the load. Here's for your consideration, a feature and cost comparison between MacBook Pro 2011 (Sandy Bridge) and Lenovo ThinkPad T-Series. It's understandable why I picked MBP for comparison. MacBook Pro is a popular machine and it gets even more so – even malware producers have decided to turn their attention to Apple's platform. But why Lenovo? Well, I've been a consistent user of IBM/Lenovo laptops for 5 years now and I know this line very well. Not only that – ThinkPad line of laptops is, by far, the only line that is associated with names IBM and Lenovo.
Another consideration for comparing T-series, rather than anything else, is that it's the most expensive (aside from W, which currently only offers one W520 model) line, so it should stack up closely with Apple's premium pricing.
One more reason is that laptop manufacturers don't make it easy to figure out what line of laptops is supposed to be doing what. I understand it's a long-term marketing strategy, where manufacturers rely on buzzwords and gimmicks to sell subpar hardware for the same money you could have bought a newer and better machine. HP does it more or less right. Dell is just… well, being Dell:



Acer is trying to beat Dell in terms of telling customers "Nothing to see here, move along":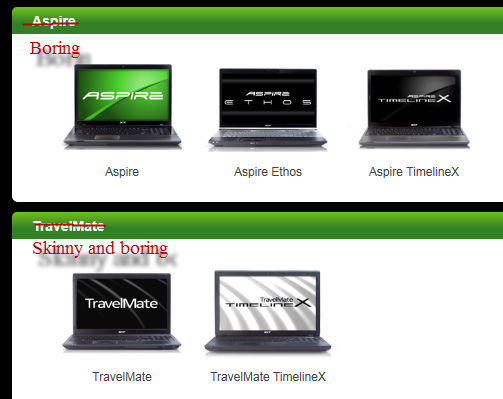 Lenovo, coming from serving corporate folk, is trying to bore everyone to death:



Click on the picture to enlarge and try to figure out what Lenovo laptops target what market and how are they different. Now, imagine how much work their marketing department has to do to keep all that somewhere in their crazy minds. Borderline insane.
Now, having said all that – Apple got three tiers of MacBook Pros: 13 inch, 15 inch and 17 inch screens, with two choices of CPU for 13 and 15 inch models and single choice for 17 inch. What I will try to do is match Lenovo Thinkpad specs as close to those of MBP as possible and see what kind of machine we end up with. The issue here is that Lenovo Thinkpads come in as many as 7 (SEVEN!) different flavors. It's kind of hard to pick and choose which one to compare, so I have opted to compare T series against 13 and 15 inch MBP models. It came as a surprise to me to find that Lenovo has discontinued a 17 inch model offering – especially that I own a Thinkpad W701, which is a 17 inch laptop. Therefore I will use Lenovo Essential G770 model, even though it is not a configurable model – i.e. all hardware specs are set when you pick a model, you can't customize anything, but warranty and accessories.
Therefore the matching will be done as follows:
13 inch MacBook Pro vs. Lenovo Thinkpad T420/T420i
15 inch MacBook Pro vs. Lenovo Thinkpad T520
17 inch MacBook Pro vs. Lenovo Essentials G770
Since Thinkpads don't come by default with Bluetooth and built-in camera, all Lenovo's were configured with these additional options. The closest CPU, video resolution and hard drive capacity were picked where exact match wasn't possible. Additionally, all Thinkpads come with Windows Home Premium 64 bit. A default 6-cell battery was chosen for all models as well as all other options were left at their default values since we are comparing "out of the box" configurations.
Here's the resulting comparison table:


As you can see in 13 inch category I had to choose lower T420i over T420 to match it against lowest MBP model – simply because Lenovo does not offer Core i5-2410M in regular T420 models. In both cases Lenovo's offering slightly better in terms of screen size, resolution, hard drive speed (Lenovo's 7200RPM is noticeably faster than Apple's 5400RPM offering), number of available USB ports and price. Speaking of price difference – $270 on lowest models and $240 on a step-up – makes it a big difference, at least in my book. Getting laptop with better specs for around $250 less should be a strong point against picking up Apple's MacBook Pro 13 inch models.
In 15 inch category things did not quite match up either. For some reason Lenovo does not offer 750GB hard drive for T520, however, they still have 7200RPM disks against 5400RPM from Apple, which inherently makes their default system faster. Lenovo is a little less flexible in terms of graphics offering NVIDIA NVS 4200M Graphics with Optimus Technology with 1GB of memory as the only option on T520 Thinkpads. If you are buying T520 mostly for office-related tasks this is obviously an overkill. Lenovo, however, offers 1900×1200 resolution screens on its 15 inch laptops, something that Apple's MacBook Pros definitely lacking. On the lower end the 2 CPUs are a bit different (Core i7-2635QM vs Core i7-2630QM, you can see side-by-side comparison on Intel's web site), but for real world use it shouldn't matter much. Price gap, however – $460 on lower model and $775 on step-up – makes a world of difference. Having over $700 in cost advantage can allow you to configure Lenovo system that will beat MacBook Pro in every category. As a matter of fact – $2,034 will buy you a T520 with Core i7-2820QM Processor (2.30GHz, 8MB L3), 8GB RAM, 15.6″ FHD (1920 x 1080) LED Backlit Anti-Glare Display and 500GB 7200RPM hard drive. Should you opt out of upgrading memory while ordering and get your 8GB somewhere else, you could still end up with cash to spare for an additional 750GB 7200RPM hard drive plus Ultrabay dock. Again, Lenovo's offering in 15-inch category beats Apple by even wider margin.
Lenovo has discontinued their 17-inch W7xx series, therefore a direct comparison with premium series is not possible. As of right now, Lenovo only offers one model (Essentials G770) in 17 inch segment. I hope it's a sign of better things to come (IPS screens maybe?). However, since Lenovo doesn't have a premium machine to match against 17 inch MacBook Pro I used whatever is available at the moment. You can see that G770 offers the same low-end i5-2410M CPU as do 13 inch models, it sports sub-par 1600×900 pixel screen, AMD Radeon HD 6650M 1GB video and slow 750GB 5400RPM hard drive. Obviously, in terms of performance it's no match for 17 inch MacBook Pro. However, if you look at the price and unless it turns out that Lenovo components are dead soldered to motherboard – you still have an option to upgrade – i5-2410M supports FCBGA1023 and PPGA988 sockets, so there could be other options available, depending on motherboard design. Nevertheless, I still believe Apple summarily wins 17 inch category because opponent failed to show up. If I could speculate a bit, I would imagine Lenovo's W720 machine to sport a configuration of Core i7-2820QM Processor (2.30GHz, 8MB L3), 8GB RAM (expandable to 16GB), NVIDIA Quadro 1000M Graphics with 2GB DDR3 Memory, 17.1 FHD (1920 x 1080) and 750GB of 7200RPM storage (with RAID options – my current W701 has 2 HDD bays and supports RAID). I would imagine the cost to be in the vicinity of $2,500 and this would be on the level with 17 inch MacBook Pro. This configuration would be better in terms of specifications, but hardly different in terms of price, so the only major selling point for Lenovo would be expandability and graphics card. This, essentially, could have been a tie, but such Lenovo system does not exist.
To summarize it all up – if you are shopping for 13 to 15 inch laptop, then Apple's MacBook Pro laptops are consistently more expensive and provide a lot less computing power for the same amount of money when compared to premium line of Lenovo's Thinkpad T-series laptops. If you opt for cheaper lines of Lenovo Thinkpad laptops (S, SL or Edge) or other lines (IdeaPad, Essentials) – your savings could be even bigger. In other words – Apple's 15-inch laptops are the biggest rip-off, comparing to Lenovo's premium laptops. In 17 inch category Lenovo does not offer anything of a value, therefore 17 inch Apple MacBook Pro has no competition here.