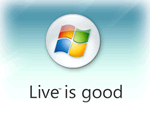 TechCrunch is reporting on the evil empire Microsoft releasing Windows Live Installer Suite with whole bunch of goodies (full list available here). Citing NYTimes, that called the release a "Netscape-Level event" TechCrunch boldly disagrees saying that MS isn't offering anything compelling to users.
So was the case with Netscape. Internet Explorer was much worse by the time it was released. In my opinion, IE now is still suffering from certain "child diseases" comparing to Firefox or Opera. Nevertheless, it's market share is over 75% roughly. The reason behind it – it comes preinstalled with any Windows system, available immediately (while Firefox/Opera/Netscape requires additional knowledge and download) AND appeared (not anymore, though) as an picture captioned "Internet". For some people (and I heard this myself), blue icon with word "Internet" and AOL browser were two totally different worlds. "And then my son came and put that Firefox internet on my computer, so which internet do you want me to go?".
With both XP service pack 3 and Vista service pack 1 coming later on, I can't help but think that one way or another Live Installer will land on everyone's computer via service pack or somehow else. So Windows Live Installer is going to the computer near you – whether you want it or not.