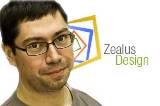 About Me
Ever since I have entered the world of entrepreneurship I wanted to start something like a diary that would hold everything, gains and losses, defeats and winnings.
Currently I work as a systems analyst for Allscripts, an IT company servicing huge network of hospitals in Long Island, NY. My job is to gather and understand users' requirements that main product team cannot deliver in time (due to commitment to general roadmap) and come up with a solution that will satisfy clients now. I also help running Wanna Glow – laser hair removal company located in New York City. Still run some stuff through my old web development shop (that is Zealus.com). Generally, I have been able to successfully run both in parallel, keeping both clients and bosses happy. If you want to hire me – feel free to browse VGrubman.com, if you need a web site – please visit Zealus Web Design Studio web site.
What is this blog about?
It was about me running my web design company, Zealus Web Design. It is now about running business in general, with more focus on how technology helps solve problems and empowers small business owners.
Can we hire you to write for us?
Sure you can. I have a sense of humor and understanding of industry I am involved in as well as many other things. However, please bear in mind that I have my own writing style. For better or worse – I am not really interested in changing it. If that's crucial – I'm sure there are plenty of other people on Craigslist who would be happy to help.
Another possibility is that you can purchase articles from this blog for use on other online resources. The audience of this specific blog is quite small, so it may even get sort of exclusive.
Would you do a paid review for us
Sure, why not. However, I will write whatever I think about your product/service. So if your product, service or gadget sucks – that's what I am going to write. My name is much more valuable to me, so I will not lie or deceive my audience, no matter how large or small.
What else do you do?
A lot of things, really. Most of it is working with technology, so it should be in this blog – one way or another. Additionally, I took on photography (and even was hired as an instructor for one of the online photography schools). Bits and pieces of it may trickle into this blog as well, as it relates to the main focus of the blog.