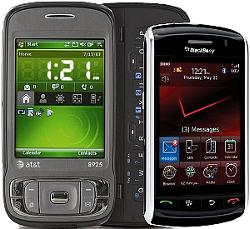 Last few weeks I was diving into a few gadgets I was missing on before. The place where I sit throughout the day has the worst possible reception spot for AT&T network – my AT&T Tilt (TyTN II) drops to GPRS in the middle of downtown Manhattan. A dozen steps towards any window improves the situation, but it's not always possible. I asked people around, but since mostly they're wielding iPhones with bad enough reception already, there was no way of knowing what would work. Testing with regular phones as well as Samsung Blackjack showed that the problem persists to the spot, rather than device (especially since I had flashed an updated version of radio). Recalling my previously very much decent experience with Verizon, I went to the closest store and bought Blackberry Storm.
Now, usually I would go for Windows Mobile device, but I wanted to explore a bit into realms of other mobile OSes. I was mostly interested in Blackberry, since it has, by far, one of the biggest markets. Besides, it just look different from anything RIM had produced before.
My overall impression is mostly positive. The phone is a tad smaller, significantly thinner and definitely weights a lot less than TyTN II. Storm has a 3.5mm headphones jack – something that's been missing from a lot of HTC devices. I also liked the screen and the idea behind the different approach to touch (honestly, I love it). The cellular service was a lot better in my spot and I was almost sold to keep the phone. Although, after couple of weeks of light use I figured a few things that prevented me from staying with the phone – at least for now.