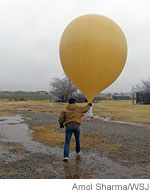 The Internet giant – which is now pushing into wireless services, has considered contracting with Space Data or even buying the firm, according to one person
…Google believes balloons like these could radically change the economics of offering cellphone and Internet services in out-of-the-way areas, according to people familiar with its thinking.
Right. Aside from numerous humorous comments on Digg ("Your internet has exploded") there is a technical issue of signal strength. I just can't imagine a balloon hanging low enough for regular WiFi to work. Unless it's a airborne replacement for regular 3G/HSDPA towers – I don't see that happening. If it is – I can't even imagine how expensive it may be. Even for rural areas costs may still be prohibitive.