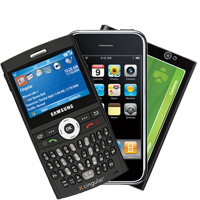 There's a little incentive these days to own an iPod, let alone any other mp3 player. For those crazy about any product Apple releases there's an iPhone that's just as good as an iPod plus you can call your friends when you're not listening to music. If you own any other smart phone device (or PDA phone) than their memory – whether built-in or expandable, like memory cards, is all yours to store your tunes. There's little – if any – reason to own any mp3 player.
As always, Apple got there first, although many people have been using PDA phone as my ultimate media player couple of years before that. Video looked just as good and you didn't have to pay for each and every ringtone. But you'd have to use Windows Mobile for that, which is, of course, unacceptable for Apple fans. Admittedly, devices didn't look half as sexy as iPhone.
But even since early Sony's attempts to introduce Sony Phone Walkman (I think I have one laying around somewhere given to me by some friend) the idea of merging multimedia device and phone was in the air. As we progress in faster cellular networks, faster mobile processors and better screens (i.e. better video quality) eventually we will see a single device that's capable of playing stored media files (video, audio), streaming from various sources, like XM satellite radio, YouTube (and its clones), various streaming services like Last.fm and Pandora. The device will be capable of taking down your notes and synchronizing with almost any popular calendar and contact application out there (including online services, like Google Calendar, Yahoo and MSN). Apparently e-mail and web browsing capabilities already in place, they'll just be more robust and less cumbersome. That includes sync with corporate e-mail services (Exchange, Domino) as well.
The way this future device (or rather a group of devices) will greatly vary depending on the target market. For example, for hip young crowd the device will probably look overly stylish, hyper sleek, uber sexy and totally overpriced. For corporate employees it's going to be some sort of cross between Blackberry and something that looks nice. For geeks it'll probably either look like a HTC Shift with a twist and a handle.
Overall, the idea that you will have a unified multimedia device with phone capabilities is upon the big corps like Nokia, HTC, Sony and others. Let's just hope they finally hire some decent designers and the next wave of such devices won't look like Blackberry on steroids.