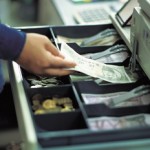 Imagine you are running a small retail store. And the online storefront as well, where you sell exactly the same stuff you sell in your brick-and-mortar. Now, correct me if I am wrong, but main issues you'll be working with are:
keeping track of the inventory (N units in stock, X units on order)
keeping track of sales receipts (since you have cash/credit you have to learn what the heck is accounts payable and accounts receivable)
keeping track of employee hours worked or units of work completed (like packages prepared and shipped or units assembled)
keep track of all your money movements, including both direct and indirect costs (like paying salary to employees and paying handyman to fix your delivery truck, or paying your smart-ass business consultants to improve your business), i.e. all of your costs of running business
keep track of your customers' records, personal requests (if your business is of such sort) or general requests (for certain merchandise)
keeping track of long term projects not directly related to running a store, like marketing (ads in newspapers, AdWords campaigns) or IT (web site redesign, integrating store's POS with online ordering)
I'm sure there's so much more than this, but I just want to stop here. So far we have operations, sales management, human resources, accounting/finance, customer relations and executive management. Did I miss anything (ah, yes, legal, let's just skip this for a moment) else?
Now, from my experience pretty much all the business owners are keeping all this in their heads. Their bookkeeper does their bank reconciliation once a quarter or once a year. Their full time store sales person probably remembers what needs to be ordered by week's end. She also knows most of the customers by face and name and sort of knows what they like. And every night the owner pulls cash out of the register together with thick pack of credit card receipts to try to make some sense out of them before the store opens tomorrow morning.
Sounds totally wrong? Or too familiar? That's what I'm getting at!
Over 80% of business owners don't go above Excel sheets in order to keep track of all of the above information. One spreadsheet – inventory, one – list of vendors, one – credit card transactions, one – payroll. And these are very well disciplined businesses, because about 60% just don't keep track of everything. About 20% of business owners don't keep track of anything at all, judging about their current situation by the current balance on their bank account. And that, mind you, could be a personal account, because they aren't incorporated, just d/b/a.
Why? Because they don't know any better. And they don't want to pay for it, because the money's tight, the crisis is upon us and there are more important things to do. Nobody wants to spend their time and money on something they can't immediately use or profit from. And that is totally understandable and just as well totally wrong.
Keep reading, this is just the beginning 🙂