This is part II of the series (read Part I of Self-Improvement for Small Business Owner).
When you talk or read that goal management is good – you are not making any real progress. Even more so – the more you talk, the more you waste your time. So if you really want to start going – here's a first step at organizing your goals.
Remember how I talked about dividing your goals into three categories? Hope you do, because, being a geek I have done half of the work for lazy you. The following link will open a Google Document in a new window (you can click on the picture as well for the same effect):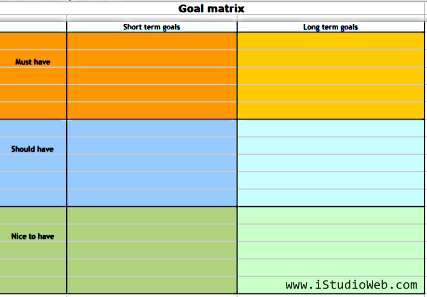 Goal Matrix with Color-Coding
This colored thingy is already broken down into 9 color-coded areas. Once you write your goals in each of the areas, you should start associating your goals with these colors. Now, I am not saying you should use these colors to brain wash yourself, however, if you feel certain colors would represent your goal/priorities better – feel free to copy this chart into Excel or Calc and change them around. The idea is to have three colors for each priority and distinguish between a long and short term by intensity (saturation, if you will) of the same color.
Why? Good question. Ideally, your short term goals must lead you to achieving your long term goals. So by coding short-term goals in the same color as your long terms you implicitly suggesting to yourself that that's why you are doing this. As an example, take running 10K distance (that's one of my long term goals for now). I know that I can't just get up and run 10K, because somewhere around 3 – 4K distance I break down. So I set a short term goal to get an extra 5 minutes to run every week. During my workout yesterday I had a 30 minute run instead of 25 as of last week and I have successfully broken my dreaded 4K barrier. Maybe I stick to 30 minutes for the next week or maybe I will increase it to 35. In any case – running an extra 5 minutes makes a perfect deep-blue colored short term goal, at the same time reminding me that colored in sky blue goal of running a 10K run is getting closer every time I achieve my "+5 min run".
Aside from that there is one more use for this matrix, which I will talk about in the next part of the series. Stay tuned.