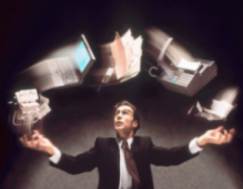 It's no secret that I am somewhat a gadget junkie. If I was working for some of the blogs that review gadgets constantly, I would probably forget the paycheck now and then. However, I don't work for any such place, therefore experience a gadget hunger once in a while.
However, as I go along with many of them, I tend to realize that half of the gadgets are useless in 99% of cases. Depending on the work flow, a different set of gadgets is needed, so here's mine:
Lenovo W701 laptop – my main power horse. Despite being exactly what I wanted I regret the purchase from time to time, thinking I should have opted for a smaller machine that would not take up a whole table at Starbucks.
Lenovo X61s laptop – the opposite extremity. While I wanted the lightest laptop possible, I didn't quite realized, until later of course, that 12 inch screen with 1024×768 resolution is a little too small, especially for meetings with clients.
Droid/iPhone – or any smart phone for that matter. Surprisingly, I find myself more and more demanding only one thing from my phone – that is making/receiving calls. E-mails, notes, web, news, books and everything else from "on the go" menu has gone to iPad that is just as easy to flip out but has a lot more screen real estate.
Four 1TB USB-connected hard drives – too many connections, too slow a speed. I might only need one out of those four (or is it five?) drives, yet they are constantly connected for that "just in case" moment.
IBM T42p Windows XP based file server – this would have been a disgrace all by itself, especially given how many Linux servers we are running at Zealus, if not for this: despite all the rumors of Windows being a buggy unstable system and all, it's been running without reinstall for OVER 2 YEARS straight! OF course, I don't install a lot of software on it, and, of course, I keep up with patches. And the hardware is amazing too.
Gateway FHD 24 inch monitor – it's like every acid junkie's wet dream, the colors are so over saturated that my color calibrator gave up. Seriously.
So what am I replacing this zoo with in the course of a next year or so?
Lenovo W701 laptop – not going anywhere. It's a solid performer and I doubt I will be replacing it any time soon. Given its 17 inch screen and 8 GB RAM – it hasn't exhausted all its capabilities yet
Lenovo X61s laptop – I was thinking about Macbook Air, given how slim it is, but by the time Apple will have decided to update the hardware it will again be obsolete, so I wouldn't even bother. Currently looking at ASUS UL80-J series, the one with 14 inch screen and Core i3 CPU. Alternatively, I just might go for Lenovo's T410 series.
Droid/iPhone – I am keeping my iPhone 3GS at least until the end of the contract anyway, since that's in February I guess I will be able to see all the offers of this year. But my primary urge is for Motorola Razor, so if you have one laying around – send it my way.
Four 1TB USB-connected hard drives + IBM T42p Windows XP based file server – will have to be combined into consumer NAS. There is no other way around this, unless I opt out for entry level server box.
Gateway FHD 24 inch monitor – being replaced with new IPS-based Apple Cinema display. Given how hard I am hitting photography now there is little, if any, alternatives left.
Have your own idea? Send it to me before Christmas shopping hits my wallet!