As I was returning the Storm after a little test run (I talked about it in the previous post), I decided instead of ditching Verizon altogether to try out their data plan. I got UM175 USB wireless modem and Verizon's "unlimited" 5GB data plan for $59.99. But testing all that from the middle of New York City isn't as much fun as taking the set to vacation.
So here I am, in one of Orlando, FL resorts, checking the quality of the service. There's no problem with connectivity, my question is – just how good the internet connection is for an advanced user like me. All tests were conducted through SpeedTest.net, so that you can enjoy the pretty graphic fonts instead of boring tables.
The most important criteria to look at are latency (how fast the signal travels from point A to point B and back) and upload speed. Big latency is what will kill your IP phone conversation, your online meeting or your live webcast. Download speeds are usually more than adequate, but when you're trying to upload a bunch of pictures from vacation, a huge Excel spreadsheet or heavy PDF, the podcast or videoblog post – that's when little upload speed is starting to hurt. Besides, slow upload speeds will also have their say in making your online meeting or IP phone conversation useless.
First of all, for some unknown reason SpeedTest.net thinks I am in Kansas. Obviously that alone suggests that results will be skewed. But if that's where Verizon's partner Cellco is and where its proxy is than that's what we've got. Later on I will compare the speeds achieved through Verizon Wireless BroadbandNational Rev-A with whatever internet connectivity this resort offers.
Below are the results for Verizon Wireless data connection to various locations from Orlando, FL: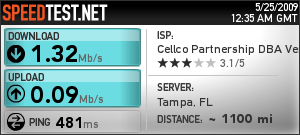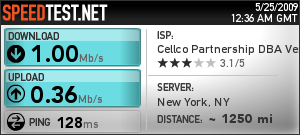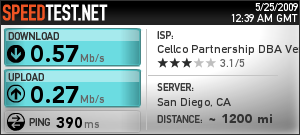 Note that New York seems like the fastest place so far. It has lowest latency and the highest upload speed. Tampa, FL, on the other hand (the closest spot out of all three) is the slowest in both latency and upload numbers.
To compare Verizon's data plan I rented a resort's modem. Since the resort is a system of spread-out five-story buildings, the easiest way to wire them was the internet over power wiring. Surprised, since I haven't seen this technology implemented anywhere else, I took the modem to my room, hooked it up to a closest power outlet and was online in less than a minute.
The speed results to the same three locations provided below: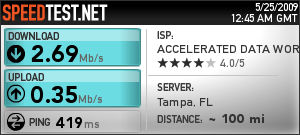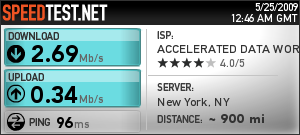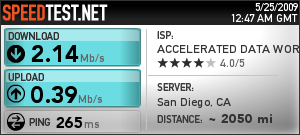 As you can see, there's not that much of a difference  in latencies and upload speeds for each of these providers. However, speeds from resort are consistent across the board, even to San Diego on a West Coast. Given the cost of connection at the resort ($1.99 per day or $19.99 for whole stay, in my case that's a week) it looks like a more viable option, compared to Verizon's $59.99 per month before taxes. Actually, if you account for taxes and split the payment into weekly installments, Verizon's cost will be roughly similar to $20/week. This comes, however, with slower speeds and more restrictions, like 5GB cap and prohibition to utilize VoIP and heavy streaming services. The only significant advantage on Verizon's part would be, of course, the mobility.