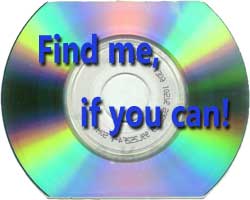 This wouldn't be a guide to promote your small business offline, but rather a rant of small business owner who tries to do something good – and not quite succeeded.
Yesterday I spend a good hour and a half searching for small CDs at local stores – both computer oriented and those selling office supplies. While regular small CDs were sporadically available at certain merchants, the business card CDs were nowhere to be found. At a single store only I was able to find a mini-CD in quantities over 8 pieces for 8 dollars.
The story with CD labels was even worse. If you are looking for regular-sized CD labels – you are all set pretty much anywhere you go. But if you thought you could find labels for any other CD size – think again!
Overall I visited around 8 stores, 5 of them were Staples and Office Depots, three others were BestBuy, DataVision and CompUSA (that was a sorry view). While trying to order labels online at Neato I almost got hit with a charge of $50.01 for shipping on 200 pages of two sorts of labels. The amount itself was about 40% higher then the price of labels.