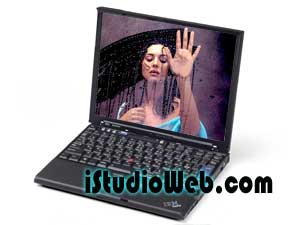 Since I have got the new Lenovo X61s laptop I am getting used to do things slightly differently then before. For one, I don't have to lug around with all the beauty of T60p with two hard drives and all the data on them. Even though all the e-mail isn't here (it's insane to try to synchronize two Outlook instances), but all the work-related correspondence is backed up on two Gmail accounts plus I have IMAP access to same e-mail accounts (POP3 instance of Outlook doesn't delete messages from server unless it's spam). Additionally, a Samsung BlackJack that I use in conjunction with AT&T "laptop tethering" provides to be a decent cellular modem in case I get to spend some more time waiting then expected.
Windows Vista Home Basic that was installed on it initially didn't quite impressed me, so I upgraded it to Ultimate flavor, since I purchased a license a long ago, but never got around to install Vista Ultimate on my main laptop. Overall impressions are mixed. System sometimes momentarily freezes for no apparent reasons. Only today (two weeks after arrival) Windows Update was able to successfully find and install PS/2 Trackpoint driver. It was a miserable experience before…
Carrying weight is almost non-existent. Keyboard is large enough for convenient typing in non-convenient locations (my previous post, including Excel spreadsheet and chart, was compiled in a waiting area of a medical office. The only concern I have is the placement of USB ports – two on the right side very close to hand rest and one on the left, approximately in the middle. If you are in a crumpled space and want to use a portable USB mouse the sticking-out dongle will take up the precious space. Sometimes I really miss backside USB ports of T23.
To sum up the impressions – getting X61p was one of the best things I could've done to ease the stress on my back. With recent Lenovo discounts my unit cost me much less then I anticipated initially, so my budget wasn't that much harmed either. Spacious enough screen and near-full size keyboard allows basic work to be completed with minimal discomfort and in almost any place. The choice of OS (Vista Home Basic) is questionable, but XP flavor would have cost me around $80 more and I already had Vista Ultimate license laying around. 6 hours of battery life (I never worked on it for 6 straight hours, so I cannot neither confirm nor deny this, but so far it looked close enough) sounds pretty good too. Additionally, Vista has "battery stretch" feature that allows you to literally stretch your battery when you're at your last 20% of charge by powering down unnecessary activities (radios, hard drive, peripheral devices, etc). Overall – very nice piece of hardware, but with showing signs of degradation of quality. T40 that I still have has a more robust and solid feeling, whereas X61p handles and feels like cheap plastic.