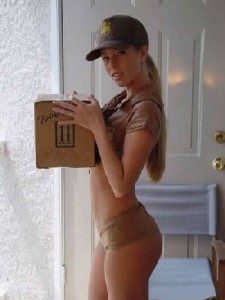 Usually I try to avoid using UPS, but when both hard drives in my laptop died on a same day and I called Lenovo for replacement – there's little choice to be had. Last night I found a familiar brown-yellow-white note on building's doors saying that UPS has made a second attempt to deliver the package. It's not that I was aware of the first attempt, but who's counting, right?
Well aware of all the issues facing me I called main UPS number and quickly found out that my package is resting peacefully at the station across the town. We're only New York City's most populous borough, with 2.5 million residents and the second most populated county in US, so we only get a single UPS station to pick our packages.
However, much to my surprise, the station is open from 8pm to 10:30pm (that's right, night hours) for package pickup. Nice location (some warehouse neighborhood), friendly parking spots (half the streets around this huge UPS yard are marked "No Parking Any Time"), easy access (I only had to walk one and half block from the parking spot I found to a small entrance in a fence with no lights on) – all makes it a pleasure to visit and pick up the package.
The staff, though, is very friendly – either on the phone or on the location. I didn't hit any lines (understandable, given the place and the time) so I got my stuff in well under 20 minutes.
Nice to see a movement in a right direction for UPS. Now if only I wouldn't have to drive 30 minutes from home to UPS yard – it would have worked much better.