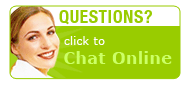 Last couple of days one of our clients and I spend quite some time researching providers of online chat service. This is one of those services where a visitor of your web site can click on the image with a smiling lady and supposedly chat with a friendly (or not so friendly) sales person.
The advantages of this sales tool and live help tool are numerous – you can see how visitors move from one page to another in real time, you can engage them in chat when they reach certain part of your web site or even walk them through your site! Various services allow popping up an invitation window after certain period of time, based upon certain rules or pages visited. We looked through several live help services and I have decided to share some of the research on live help service with readers of this blog.
BoldChat – overall we got a good impression of this live chat service. The setup consists of putting special code on your web site and downloading a Windows-platform software (they don't have Mac version, as far as I know) to keep track of visitors, engage in live chat sessions and so on. The drawbacks are confusing list of features and a little higher price then most competitors – $29.95 per operator per month, $79.95 per 3 operators per month (there is a discount that adds to pricing confusion).
Live2Support – very confusing pricing model. Chat services are divided into Bronze, Silver and Gold plans with different number of operators available for each "denomination". Cons: basic (bronze) lacks most of the basic features, poor sales representatives level. Pros: rich features on the pricier plans, ability to use both web interface and Windows-based software to keep track of users and chats, advanced chat functions – chat sharing, transfer, moderation. Pricing: from $9.99 Bronze plan with single operator to $69 for Gold plan with 10 operators.
LivePerson – one of the most expensive providers of live web site chat services. I was unable to find any mention of the pricing online, but through a chat session with a live operator I was quoted pricing from $99 and up per month per operator. The sales agent was very pushy, offering some discounts on a "take it or leave it" basis. They, however, are very popular service, powering many large-scale web sites.
(Continued – Part 2 of Live Chat Review series)